How can you disable the WordPress comment?
If you go to the dashboard under options "discussion, there is a comment " Allow people to post comment" try unchecking the comment
By default, WordPress enables comments on all posts, and disables comments on all pages. You can change this to disable / enable comments completely (site wide), or selectively on some posts and pages. You can also regulate comments in many ways using the options in the Settings page.
The place to start managing comments is Settings > Discussion in your WordPress Dashboard.
1. To stop comments on all future posts (and pages):
Uncheck the option "allow people to post comments on articles". You can also disable pingbacks and trackbacks here. This will stop comments and pings entirely on all future posts on your site. (Pages are disabled by default).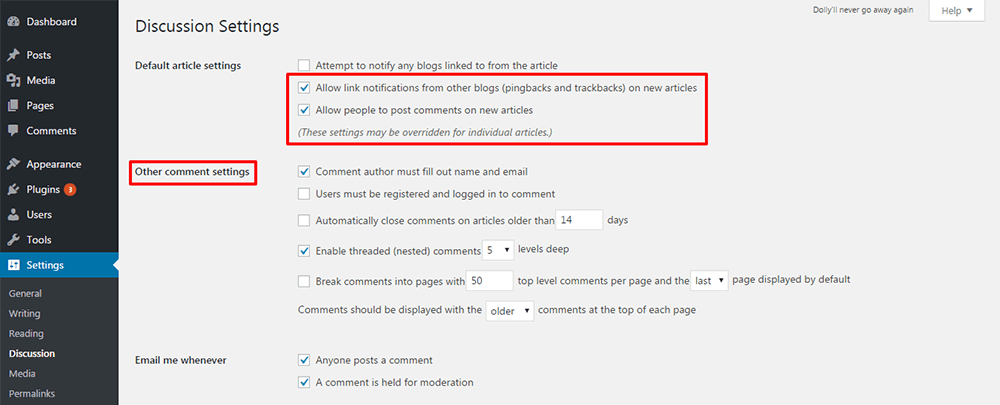 If you wish to allow comments on individual posts or articles, you can do so by changing the settings under Discussions in the individual post or page. (More on that below).
2. To stop all comments on all published posts (or pages):
Simply disallowing comments as mentioned above will not stop the flow of comments on existing posts and pages. To trash all comments on all existing posts visit your Dashboard > Comments.
Here, you can select the comments you want gone, click Bulk Actions, select "Move to Trash", and then click the Apply button.

3. To stop comments on selected posts (or pages) in bulk:
This time let's go to the All Posts section. Select all the posts for which you wish to delete comments. Then click on Bulk Actions > Edit > Apply. A new option Bulk Edit will open up where you can choose the Do Not Allow option for comments.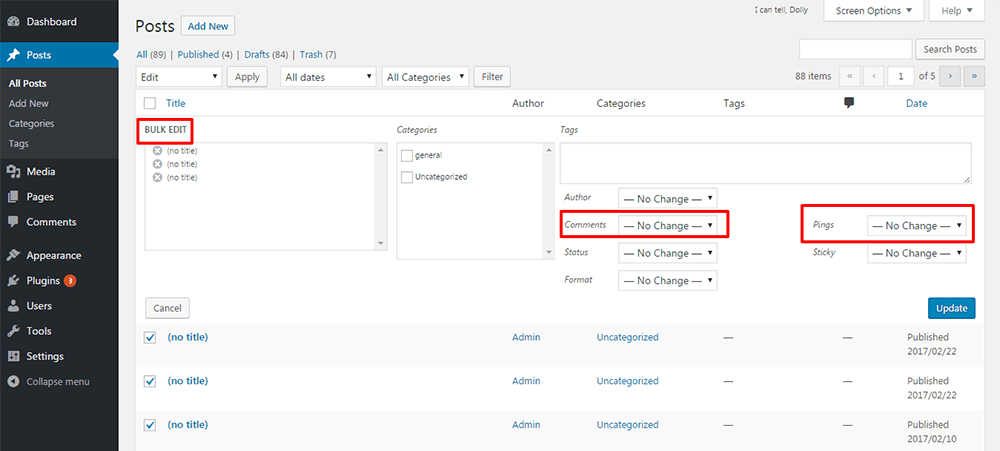 You'll be restricted to selecting from 20 posts at a time because that's the default setting for display of posts in the All Posts screen. To display a greater number on each screen, make changes under Screen Options.
4. To stop comments on existing posts individually:
Select the specific post from All Posts and click Edit Post. Below the writing area, you'll see a heading Discussion. If you cannot see this option, enable "Discussion" under "Screen Options". In the Discussion box, uncheck "Allow comments".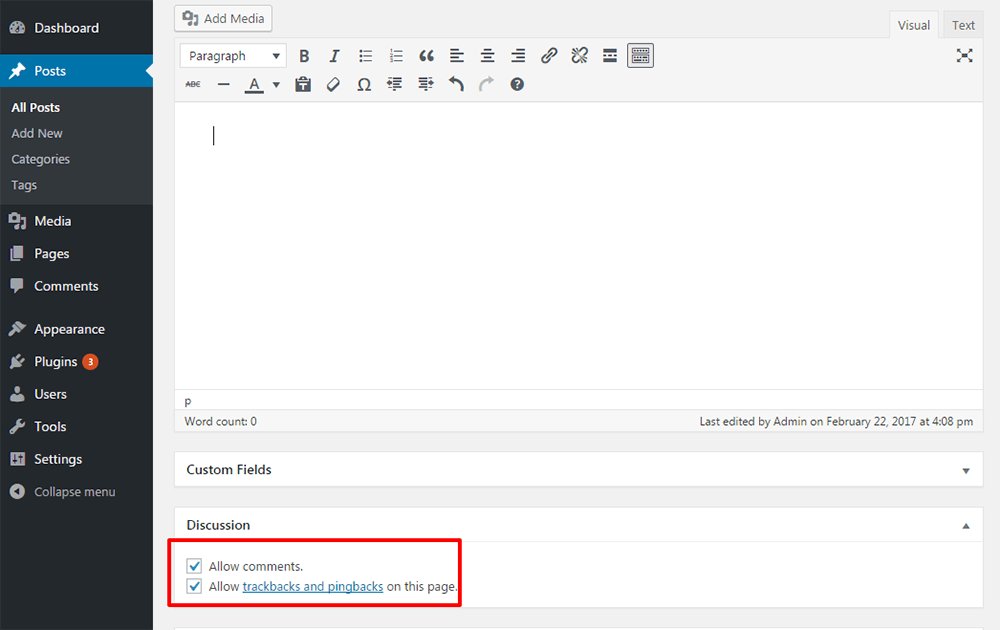 You can also achieve the same result by opting to Quick Edit individual posts.

5. To disable comments on media files:
We're still not done, as the posts may continue to receive comments on the media files.
When you upload an image to your post, an attachment file is created. This file will continue to receive comments, even if you've disabled them on the corresponding post. To disable comments in WordPress for those attachments, visit Media Library, select the media file and click on Edit.

You'll find a "Discussion" box similar to to the one in the text editor for posts, and you can disable comments there.
It's not possible to do a bulk edit for media files using settings in WordPress, but you can do this by adding some code to your theme file.
6. Besides disabling comments altogether, you can also get more control over comments by adjusting things in the Settings > Discussion panel. Let's have a quick look through the options available:
Requiring moderator to approve the comment before it is published: This not only catches bots and spam, but also helps to prevent a comment from appearing right away on the frontend of your site. It will appear on your dashboard in the comments queue where you'll have to deal with it.
Blacklisting IP addresses, usernames or emails: blacklist known offenders, and even a partial match to the list will be blocked. You can also add a bit of code to .htaccess to block known malicious IPs.
Requiring the user to register: Can bring down both spam and the volume of comments.
Approving comment authors: Save time by approving comment authors. Subsequent comments will pass through easily.
Closing comments on older articles: Specify the number of days after which comments will be stopped. Spammers generally target older posts, so closing comments will cut down on spam.
Limiting links: This can thwart spammers who like to leave as many links as possible with their comment.
Be notified when you receive comments: If you keep yourself abreast with new comments, you can act swiftly on unwanted ones.
Plugin solutions for disabling comments
Setting the manual WordPress settings aside, you can also use plugins to make the job easier and give you a more "managed" control over comments, so to speak. Here's the main player in this realm: